Symptom Checker
The healthdirect Symptom Checker guides you to the appropriate healthcare action: if you need to see a doctor or go to your nearest hospital or emergency department. It helps you understand symptoms and possible signs of illness, causes and complications.
With the Symptom Checker you can:
Understand your options – advice on the next healthcare steps, whether it's self care, talking to a health professional, going to a hospital or calling triple zero (000)
Find local health services – information on healthcare professionals in your area using the National Health Services Directory (NHSD)
Assess your symptoms – help explaining and clarifying possible causes related to signs and symptoms, such as aches, pain and rashes
Learn more about your symptoms – links to further information about your symptoms, and possible causes, from trusted Australian healthcare organisations.
If you think you have a medical emergency, immediately call your doctor or dial triple zero (000).
Disclaimer
The healthdirect Symptom Checker is an online tool for consumers to check their symptoms and find trusted information and advice on what to do next. The healthdirect Symptom Checker is not a:
diagnostic tool
substitute for professional health care
an alternative to seeing a GP.
The GP Superclinic @ Midland Railway Workshops takes no responsibility for the information that appears in the healthdirect Symptom checker.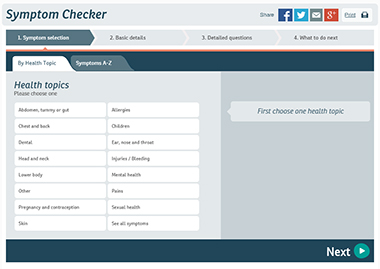 Healthy Living
January 19, 2016
A healthy diet is one of the most important ways to reduce your risk of developing heart disease.
Read more

The material on this web site is provided for educational purposes only and is not to be used for medical advice, diagnosis or treatment. Use of this site is subject to our terms of use and privacy policy.
View our articles
Patient Resources
January 19, 2016
Join the Red Army in February 2016 to help us beat Australia's No. 1 killer – heart disease.
Get Active,...
Read more

The material on this web site is provided for educational purposes only and is not to be used for medical advice, diagnosis or treatment. Use of this site is subject to our terms of use and privacy policy.
View our articles
Book Online
BOOK GP APPOINTMENT